listen. relax. enjoy.

20.05.13
ScHoolboy Q - Sacrilegious
This dark narrative is told from the perspective of someone with the inability to break from their misguided habits. Taken from ScHoolboy Q's second LP Habits and Contradictions, Sacrilegious introduces the listener to a world populated by bad choices and self-destruction.
ScHoolboy Q is a part of the Black Hippy collective along with fellow West Coast rappers Ab Soul and Kendrick Lamar. ScHoolboy Q's debut major label effort is due out later this year and according to the former Crip member, he has 'no choice' but to release a 'classic' album.
As long as he can continue to write and deliver unconventional rhymes, his hardcore fanbase won't likely be disappointed.
Enjoy.
14.05.13
Kydd - Missing Elements
Rapper Kydd really taps into the subconscious regions of the brain with this tune. The hypnotic beat is best enjoyed with headphones on or submerged in a bath (but not both for obvious reasons!). The unorthodox offbeat bassline and percussion add to the mysterious feel of the track.
The video is also incredible. The concept clip depicts life and death while flirting with mystic symbolism. 
Download - Missing Elements
14.04.13
| | |
| --- | --- |
| | I Saw the Sky The Flashbulb |
The Flashbulb - I Saw The Sky
The prolifically gifted musician The Flashbulb (aka Benn Jordan) is a man of many talents. He is a master drummer, drum programmer, pianist, guitarist and accomplished producer. The man is so musically gifted he has also opened up a music studio in his home city of Chicago. 
I Saw The Sky is from Hardscrabble, Benn's 13th album under his Flashbulb moniker (and third album he released last year).
Whether it is the bipolar disorder that fuels his creative drive, or his highly attuned senses, Benn's artistic works are engrossing and immersive. His unique brand of downtempo, often orchestral breakbeat music is what I like to consider (at the risk of being called a musical snob) high art escapism.
Check out the beautifully filmed video for I Saw The Sky here.
Enjoy
10.04.13
| | |
| --- | --- |
| | Soul Killing Ting Tings |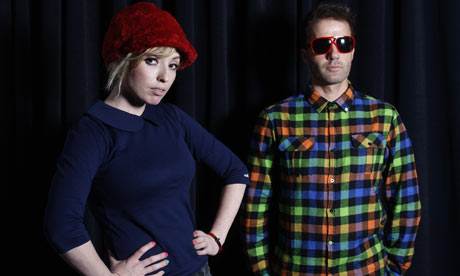 The Ting Tings - Soul Killing
The Ting Tings, who could have been easily dismissed as a pop throwaway group after releasing the irritating single That's Not My Name in 2008. The British duo consists of Katie White and Jules De Martino and they have more skill than many casual listeners might have known. I admittedly had no idea who they were until I heard this track from their second album Sounds From Nowhereville which came out around this time last year.
To be perfectly honest, since downloading Soul Killing upon its release, I haven't properly explored their other work together and I am dubious whether there will be a song I like better than this one. It has an upbeat reggae beat and enough variation to make it a worthy of plenty more listens one year on.
Enjoy.
27.03.13
| | |
| --- | --- |
| | Up Much Higher Tim Fitz |
Tim Fitz - Up Much Higher
One of the most promising new Australian acts to catch my attention in the past year is Tim Fitz. The man has already released 3 EPs since 2011 that are worthy of high rotation on ye olde iPod.
If you aren't convinced that this song is up your alley, just check out his other releases on his bandcamp page. You really are spoiled for choice with the number of great tracks available. One of the beauties of his music is that no two tracks sound alike. There are a host of free and 'name your price' digital downloads available right now.
Fans of The Paper Kites will warm to this song very quickly and fans of more experimental production will surely enjoy Tim Fitz's other work.

Enjoy.
7.02.13
| | |
| --- | --- |
| | Even If We Try Night Beds |
Night Beds - Even If We Try
If a slight breeze were to blow, or a drop of rain were to fall anywhere near this song, it just might break - that's how delicate it is.
Night Beds are a band based in Tennessee, consisting of Winston Yellen, Ben Kaufman, Aly Holland, Ryan Ellis, Joe Hutchinson, Taylor Zachry. This track surfaced a few months back in November and admittingly, I completely forgot about it until hearing it again recently. The timing could not be riper, as Night Beds are due to release their first full length album after ten years of making music together and a slew of EPs. Keep an ear out if you like what you hear, as Country Sleep came out of February 5th.
Fans of Bon Iver, Youth Lagoon and Jeff Pianki are sure to find pleasure in this tender, minimalist, falsetto-laden lullaby.
Download - Even If We Try (control-click & save as) 
28.01.13
| | |
| --- | --- |
| | Stormy Weather (LarryOh Remix) Little Dragon |
Little Dragon - Stormy Weather (LarryOh Remix)
For those of you who don't know, Little Dragon are a quartet out of Sweden who specialise in innovative electronica. Aside from having the amazing Yukimi Nagano as the lead singer, they also experiment with soudscapes to great effect. My two favourite songs from the group, Twice and Ritual Union are good places to get acquainted with the band.
The Stormy Weather (LarryOh Remix) certainly acknowledges their relaxing sound and draws on samples to reconstruct a dreamwave tune certain to soothe you after a hard day at work or on a night time drive.
According to Pigeons and Planes, this track was available for free download, but I can't find any link to suggest that is the case. I suppose you'll have to get creative in working out another way to secure a copy.
Enjoy.
18.01.13
Lorde - Bravado
Lorde is a songwriter from New Zealand who has just released her EP in December 2012. The Love Club EP is currently available for free in its entirety from her Soundcloud page.
One listen to Lorde will be enough to assure you that she is ready for the masses. Her EP features some excellent vocals with top notch production. Bravado showcases both of these.
Lorde effortlessly graces the track with multi-layered vocals to create a rich harmonised soundscape, warming the sparse backdrop of beats and synthesizers. Spread the word and help Lorde get some well-deserved attention.
Download - Bravado