listen. relax. enjoy.

6.05.13
| | |
| --- | --- |
| | Sapphire Bonobo |
Bonobo - Sapphire
Finding a song to feature from Bonobo's new album proved to be difficult. The entire LP is a cohesive unit with different textures and cultures like an organic plant growing more luscious with every listen.
I have however, settled on Sapphire for no other reason, other than it was playing when I began writing this. The song features just before the halfway mark and it is nothing less than you would expect from Britain's elite DJ/producer. It is the kind of song you could play to your mother in law, your teenage hipster nephew, or your neighbour's ant colony. In other words, I think few people would find Bonobo's new album difficult to refuse or dispute.
I highly recommend The North Borders to lovers of all music. Released last month, Bonobo's fifth album is all killer no filler and a definite venture into downtempo bliss.
Enjoy.
Comments
21.01.13
| | |
| --- | --- |
| | Cirrus Bonobo |
Bonobo - Cirrus (radio rip)
Bonobo has a reputation for being one of the premier ambient / electronic producers in the world. This is a reputation that has been building for several years and there are more and more fans anticipating the man's next move.
Thankfully, three years after releasing his last original album Black Sands, Bonobo has returned with Cirrus, premiering the tune of Giles Peterson's BBC Radio 6 show and rumour has it that he is due to release a new album in 2013. 
The track features complex percussion and predominantly live instrumentation that has been masterfully mixed to create a minimalist tune. The end result is Cirrus. One listen to this song will induce the same brain wave frequency patterns as mediation. Unfortunately that state of mind will be broken by Giles Peterson talking over it.
Keep your ears peeled for the legitimate copy when it is released later this year.
Enjoy.
Comments
6.07.12
The xx - VCR (Four Tet Remix)
Four Tet has won my admiration and I am always keeping an eye out in case he releases a new song or a remix that might fly under the radar.
He released one of my all time favourite remixes in 2010 when he adopted minimal vocal samples from The xx and made the song completely his own. The track extends almost 9 minutes and always manages to make me relax. Only 3 artists come to mind when I think of DJs who can control progressive downtempo on the same level as Four Tet - Emancipator, Tycho and Bonobo.
These artists are truly in a class of their own and easily stand apart from your house or nightclub DJ.
I'm sure after listening to the song you will echo the sentiments of Romi, hoping the music "don't stop, don't stop…"
Comments
24.03.12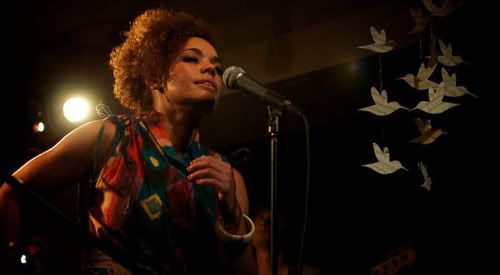 Andreya Triana - Lost Where I Belong (Banks Remix)
I recognise Andreya Triana from her collaborations with one of my favourite artists, Bonobo. She made several appearances on his astounding Black Sands album and he helped to produce her 2010 LP Lost Where I Belong.
Ninja Tune (label) released this remix of the title track to commemorate International Women's Day. They are also generously giving it away as a free download. You can grab the link to the mesmerizing track below. Enjoy.
Download - Lost Where I Belong (Banks Remix)
Comments
2.03.12
| | |
| --- | --- |
| | Brace Brace Bonobo |
Bonobo - Brace Brace
Bonobo has just released a remixed version of his highly acclaimed album Black Sands from 2010. The UK DJ largely takes the backseat as guest producers reinterpret some of his unique brand of folktronica. 
While I am a huge fan of  Black Sands, I'm not sure I enjoy the guest remixed tracks as much as the originals. My personal favourite from the new album is Brace Brace, a rare Bonobo original that was previously only available on the Japanese version of Black Sands.
The track has been included among the remixes and it is a classic Bonobo orchestral arrangement with emotional subtlety, a donwtempo pacing and smooth instrumentation. Enjoy.
Comments
11.12.11
| | |
| --- | --- |
| | Black Lake (Emancipator Remix) Emancipator |
Emancipator - Black Lake (Emancipator Remix)
American trip-hop producer Emancipator released a remix album earlier in the year and this song won me over as a fan. The Black Lake remix reminds me so much of Bonobo's music that it is uncanny. I guess it can't be too much of a coincidence since his first live performance was in support of the British DJ back in 2009. 
At 2:39 the bass comes in and it changes the dimension of the track. The exotic instruments take a back seat and the organic feel of the remix evolves into more traditional trip-hop.
Click here to download an mp3 of the song and head over to Emancipator's Bandcamp page to purchase more of his music. 
Comments
25.09.11
| | |
| --- | --- |
| | Recurring Bonobo |
Bonobo - Recurring
Meet Bonobo. I came across the artist in 2007 and have been a fan ever since. Like Four Tet, Bonobo fuses exotic instruments in to create melodic pieces of art. His work is largely instrumental and makes for the perfect kind of music to relax to.
This song is one of my personal favourites, but then again there are plenty to choose from if you check out his back catalogue.
Download the song here if you enjoy and let the music do what it does.
Comments
blog comments powered by

Disqus