listen. relax. enjoy.

18.04.13
| | |
| --- | --- |
| | La nuit mene une existence obscure Nicolas Repac |
Nicolas Repac - La Nuit Méne Une Existence Obscure
This track is sizzling with French sensuality. I first came across La Nuit Méne Une Existence Obscurefrom the So Frenchy, So Chic albums seven years ago. I hold this compilation series responsible for introducing me to a plethora of French talents including Emilié Simon, Spleen, Camille and We Were Evergreen to name a few.
Enjoy.
10.04.13
| | |
| --- | --- |
| | Soul Killing Ting Tings |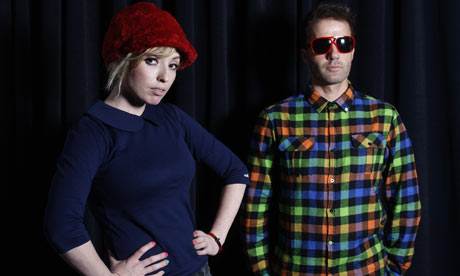 The Ting Tings - Soul Killing
The Ting Tings, who could have been easily dismissed as a pop throwaway group after releasing the irritating single That's Not My Name in 2008. The British duo consists of Katie White and Jules De Martino and they have more skill than many casual listeners might have known. I admittedly had no idea who they were until I heard this track from their second album Sounds From Nowhereville which came out around this time last year.
To be perfectly honest, since downloading Soul Killing upon its release, I haven't properly explored their other work together and I am dubious whether there will be a song I like better than this one. It has an upbeat reggae beat and enough variation to make it a worthy of plenty more listens one year on.
Enjoy.
7.04.13
| | |
| --- | --- |
| | Diamonds On The Soles Of Her Shoes Paul Simon |
Paul Simon - Diamonds on The Souls of Her Shoes (Live in New York, 2011)
You can't help but let the uplifting vocal and instrumental expressions of this song pick you up and carry you away on a foot tapping frenzy. Written twenty-five years ago, this song still gets people of all ages dancing as was proven at the Paul Simon concert held last week in Melbourne. 
Paul Simon has been a powerful force in influencing modern music today. Bands such as Vampire Weekend have drawn inspiration from the groundbreaking 1988 album Graceland, from which Diamonds on The Souls of Her Shoes appears. The album is noted for its African musical influences and genre-defying upbeat vibe.
Vampire Weekend received a lot of backlash by fans of Paul Simon's solo work for 'lifting' similar influences, such as afrobeat and eastern African folk music in the wake of their 2008 breakthrough album. However Paul Simon defended the group.
'I felt bad. I wanted to go and tell them that I didn't think they were taking anything. So that's what I told them. They said, "Do you think we are?" and I said, "No, I think you're going to the same sources that I went to. You're drawing from the same well. You're trying to write interesting songs." In a way, we were on the same pursuit, but I don't think you're lifting from me, and anyway, you're welcome to it, because everybody's lifting all the time. That's the way music grows and is shaped.'
The 71 year old is still an excellent performer and musicians continue benefiting from his illustrious 50+ year musical career.
Vampire Weekend are due to release their third album in May this year.
Enjoy.
18.03.13
| | |
| --- | --- |
| | Since '76 RJD2 |
RJD2 - Since '76
I might just be speculating here - but I'm a little bit confident that RJD2 has taken samba and South American music on this track and chopped them up to make Since '76.
The track was a single on RJD2's second album Since We Last Spoke and it has definitely retained playback value for me after all these years. Hopefully it will do the same for you. Enjoy.
4.03.13
| | |
| --- | --- |
| | Grand Imperial Aceyalone |
Aceyalone - Grand Imperial
Freestyle Fellowship broke new ground in 90s west coast hip hop and since then, I truly can't name another group that have blended the fludity of scat jazz in hip hop as successfully as them. Perhaps one of the more famous rappers in the crew would be Aceyalone.
He is not your average lyricist and listening to a few verses from Aceyalone will allow you to catch a glimpse of his unconventional style. 
But style and wordplay aside, the beat on the title track of Aceyalone's eighth solo album Grand Imperial is the true standout in this instance. I could easily listen to the laid back sample on repeat for hours. 
Download - Grand Imperial
28.07.12
Of Monsters And Men - Little Talks (Bombay Bicycle Club Remix)
It seems as though Brit-band Bombay Bicycle Club can do no wrong. Since 2006, the group have released three solid albums, varied their live sets and experimented with their own material as well as release some bonkers remixes. 
Their remix of Little Talks is a prime example. The track combines brass and funky basslines that is both dance-friendly and contemplative.
Icelandic group Of Monsters And Men never could have forseen their original song transformed into version. Maybe that is because they're wearing animal masks posing as some pagan hipsters in this picture?
Check out BBC's frontman Jack Steadman for more of an insight into the band's DJing prowess.
Enjoy.
26.06.12
Damon Albarn - Apple Carts
Damon Albarn (of The Gorillaz & Blur) wrote a soundtrack to the opera Dr Dee which was ran its course in England last year. The highlight from the album would have to be Apple Carts. 
Dr Dee is based on the life of John Dee (1527-1608/9) who was a mathematician, astronomer, astrologer, occultist, navigator, imperialist and advisor to Queen Elizabeth I. He believed that divinity could be ascertained through mathematics. During his nomadic travels to Bohemia (modern day Poland/Germany/Austria/Czech) and Europe he obtained many magical instruments. Using these instruments and a highly technical forms of mathematics, he supposedly communicated with angels. 
Dr Dee accomplished much in his lifetime including establishing one of the largest private libraries outside of Britain's universities, as well as obtaining an array of artifacts and being responsible for advising seafaring navigation for the British fleet. He continued to delve into magic despite being a devout Christian and an avid supporter of expansionistic imperialism. His rationale for imperialism was the ultimate unification of religion.
Taking inspiration from Platonism and Renaissance thought, John Dee really was a Renaissance man albeit the fact he never visited Italy as far as I know.
Damon Albarn captures the mysticism of Dee beautifully in Apple Carts. The track and the rest of the album is a far cry from his work in the Gorillaz. I think this release continues to show his skill as an artist and sheer musical range.  
You can read more about John Dee here or watch Damon Albarn perform this live here.
29.03.12
Patrick Watson - Into Giants
I think it's fair to say that most of Patrick Watson's music has a melancholic feeling to it. But on his latest single Into Giants, Watson sounds more upbeat and optimistic than I have heard on any of his previous releases.
April 17th is the date when the new album Adventures in Your Own Backyard is scheduled to be released. The album art is pictured above and fits the idea of turning 'into giants.' Maybe this will be a new direction in the music of Watson?
Enjoy.