listen. relax. enjoy.

23.04.13
James Devane - Rhubarb (Aphex Twin Cover)
I have no agenda.
I have no endorsements, no sponsors, no product placement on this website. I have never studied marketing or advertising. I have no interest in hype, in trending, in staying up to date with the most recent major label artist campaign push.
I have never sugarcoated or given my opinion of music lightly without careful contemplation and consideration on different elements and textures of the soundscape.
I don't listen to radio, I don't watch television and I have started falling out of the habit of attending social events for the sake of engaging in shallow conversations consisting of the same polite but generic questions and answers.
I don't listen to music to be social or antisocial, nor do I do it to develop a false sense of superiority or alienation from those around me. I do listen to music to stimulate my brain, to engage areas of my psyche that are both primitive and highly developed. I write about music not for any personal gain, but in the hope that I can share some amazing creative works with other appreciative listeners. I don't believe in altruism, or selflessness because I love sharing music with others and I vicariously feel a sense of joy in the process.
I often feel forced to talk a lot during the day, and far too often these spoken exchanges are dwarfed in terms of meaning, emotion, expression and understanding compared to the awesome communicative powers that music can have - which brings me to the end of my ramblings. At the end of the day, you can complain about the state of music today, or you can use your initiative and seek a world of undiscovered talent and a crowd of like-minded  people to share your appreciation with, rather than your own disappointments. 
Enjoy.
15.02.13
Emancipator - Minor Cause
Elegance and exotic soundscapes lather Emancipator's new album Dusk to Dawn.
Nowhere is this more true than on the stunning opener Minor Cause. The music begins slowly and builds before blossoming into a fully recognised orchestral, electronic masterpiece. The strings alone make this song worthy of a listen, but Emancipator's technological prowess transforms Minor Cause into a piece to be reckoned with. Highly recommended. 
Download - Minor Cause
12.02.13
| | |
| --- | --- |
| | Vivace From Concerto In C Minor Jacques Loussier Trio |


Jacques Loussier Trio - Vivace From Concerto In C Minor
Take one percussionist, one bassist, and one pianist with an impressive aquiline nose. Add classical training, and juxtapose with the desire to break rules. Combine, and the result is the Jacques Loussier Trio.
The Trio (originally comprising bassist Pierre Michelot, percussionist Christian Garros, and Loussier leading on piano) began recording during the 1950's, transposing compositions by Johann Sebastian Bach - taking them from former lives as strictly classical pieces, and transforming them into fresh jazz numbers.

During the mid-1970's, Loussier disbanded the trio, in order to develop some original compositions. However, the Trio re-formed (with a new lineup) in 1985, still focusing on Loussier's love of Bach, but also branching out to include pieces by Handel, Mozart, and Satie (among others) in their repertoire. 

Of the Trio's Bach interpretations, Vivace From Concerto In C Minor is a personal favourite. While the ear is drawn to the elegant piano, the percussive and bass work is impossible to ignore, gifting the listener with the best of not one, but three worlds. This recording is taken from the Trio's 50th Anniversary release, and features the post-reformation lineup of Vincent Charbonnier and André Arpino (handling bass and percussion, respectively).
Despite octogenarianism calling, Louisser still has a lot of Bach to work with. Here's hoping for a few more recordings of the man with the masterful hands.

~R.
21.09.12
Yann Tiersen - Atlantique Nord
Yann Tiersen is probably best known for his music on the Amelié soundtrack. However, he has contributed to many other French film scores and worked on several solo albums and in comparison, this body of music has recieved very little recognition.
Atlantique Nord literally meaning North Atlantic, appears on the soundtrack to Tabarly, a movie about a famous French sailor. Although I have not seen the film, the rich and emotive Atlantique Nord is captivating enough to make me want to watch Tabarly. If the movie ends up falling short of my expectations, at least I can rest assured that Yann Tiersen's beautiful compositions will make the viewing worthwhile. 
Enjoy.
20.07.12
Eluvium - Prelude For Time Feelers
Whoever said that there are no great classical composers alive today? Well maybe noone said that, but in my opinion the absence of knowledge about contemporary classical music is almost as bad.
Prelude For Time Feelers is an evocative song that begins with a simple piano piece before an orchestra lifts the mood and continues to build right up until the climactic finish. The track was taken from Eluvium's 2007 album Copia. 
Sometimes you need to stand up and represent classical music. Next time, bump this in yo' ride when you're cruisin the hood blastin' foolz.
Download - Prelude For Time Feelers (control-click & save)
8.06.12
Dustin O'Halloran - Opus 23
I don't know of any blogs dedicated to classical music and we don't specialise in it but today I'm going to blog about Opus 23.
The instrumental piano piece is elegant and sweet. O'Halloran composed it for the film score to Marie Antoinette in 2006.I was underwhelmed by the movie when I saw it a few years ago but the music score for the album is beautiful.
25.05.12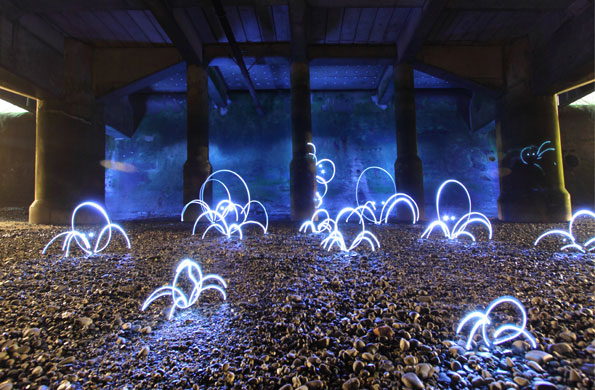 Neat Beats - Graffitti on a Tuesday Night
Woah! This song is amazing!
Mellow piano and guitar instrumentation and some fat hip hop beats as well. Just to even things off, Neat Beats (aka Alvin Fenner) also includes vocal samples from NASA(?) and an old learn-to-speak-French recording .
Honestly, this song just blows me away. The music is so fluid despite so many contrastive elements. Graffitti on a Tuesday Night further proves my point that quality sampling is underrated in modern music.
Check out more Neat Beats on his Bandcamp. I definitely recommend listening to the album in full for a more cohesive sound. I'd also recommend listening to Australian duo Fishing if you are a fan of experimental sample based music.
Download - Graffitti on a Tuesday Night