listen. relax. enjoy.

14.04.13
| | |
| --- | --- |
| | I Saw the Sky The Flashbulb |
The Flashbulb - I Saw The Sky
The prolifically gifted musician The Flashbulb (aka Benn Jordan) is a man of many talents. He is a master drummer, drum programmer, pianist, guitarist and accomplished producer. The man is so musically gifted he has also opened up a music studio in his home city of Chicago. 
I Saw The Sky is from Hardscrabble, Benn's 13th album under his Flashbulb moniker (and third album he released last year).
Whether it is the bipolar disorder that fuels his creative drive, or his highly attuned senses, Benn's artistic works are engrossing and immersive. His unique brand of downtempo, often orchestral breakbeat music is what I like to consider (at the risk of being called a musical snob) high art escapism.
Check out the beautifully filmed video for I Saw The Sky here.
Enjoy
10.04.13
| | |
| --- | --- |
| | Soul Killing Ting Tings |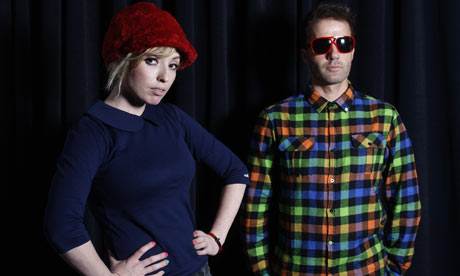 The Ting Tings - Soul Killing
The Ting Tings, who could have been easily dismissed as a pop throwaway group after releasing the irritating single That's Not My Name in 2008. The British duo consists of Katie White and Jules De Martino and they have more skill than many casual listeners might have known. I admittedly had no idea who they were until I heard this track from their second album Sounds From Nowhereville which came out around this time last year.
To be perfectly honest, since downloading Soul Killing upon its release, I haven't properly explored their other work together and I am dubious whether there will be a song I like better than this one. It has an upbeat reggae beat and enough variation to make it a worthy of plenty more listens one year on.
Enjoy.
15.03.13
| | |
| --- | --- |
| | Twice (Black Room Session) Little Dragon |
Little Dragon - Twice (Black Room Session)
Little Dragon have gradually been emerging into the social conscious through their genre-defying music. They have continued to break new ground with each subsequent release and with luck, they will continue to win over fans worldwide. 
The Swedes released their self-titled debut album in 2007. Twice is the opener.
Beginning your album with a song like Twice is setting the bar high. Its deadpan melody and sparse production brings out the rawness of Yukimi Nagano's vocals. That piano riff is contemplative and has been sampled to great effect by hip hop artists A.Dd+ on Under and Zion I & J. Period's Likwid (Dubplate). 
Perhaps one of the most impressive things about this song is that it is a live rendition of Twice. You can watch Little Dragon's performance of this on Youtube.
7.03.13
| | |
| --- | --- |
| | Lately Massive Attack |
Massive Attack - Lately

A couple of years ago, I'd been out with a group of friends in Melbourne for far longer and later than I'd anticipated. Home by 1am? Add four hours on to that and you'd be closer to the truth. Despite my sleep-deprived state, this track from Massive Attack's 1991 debut managed to wade its way through the fog and into my memory during the eventual car-ride home. Too tired to bother asking what the track was, I noted some lyrics down and vowed to Google them when I was a little less narcoleptic.

Blue Lines is critically regarded as one of the best trip-hop albums of the early 90's, but with tracks such as Unfinished Sympathy and Daydreaming receiving the most attention, this gentle penultimate number may slip past many radars.

Whilst now a partnership of Robert Del Naja and Grant Marshall, the Blue Lines-era membership included a third lad from Bristol - Andy Vowles. The beauty of Lately lies in its simplicity - effortlessly laid-back, but without being boring - evidenced in the fact that it grabbed my attention rather than sent me to sleep during our first encounter.

Shara Nelson was something of a fourth member during the recording of Blue Lines, co-writing tracks and lending vocals, and it is her voice that leads the way, guiding the listener through the murky bass and well-timed industrial hammers of Lately.
I'll always associate this track with nighttime, but it can be enjoyed any time of day - particularly during this season, for, like Shara, summertime always gives me the blues too.

~R.
19.01.13
Jessie Ware - 110%
In the spirit of the garage revival, Jessie Ware's new track plays with a bouncy bassline and fast percussion. The British songwriter is no stranger the UK electronic scene, having collaborated with SBTRKT and Joker.
Her other work has been compared with Adele in terms of her diva delivery, but I think I'd prefer hearing Jessie Ware continue to broaden her fanbase by exploring garage/dub/trip hop accompaniments, rather than following the all too familiar path of femme pop stardom. No disrespect intended.
Enjoy!
18.01.13
Lorde - Bravado
Lorde is a songwriter from New Zealand who has just released her EP in December 2012. The Love Club EP is currently available for free in its entirety from her Soundcloud page.
One listen to Lorde will be enough to assure you that she is ready for the masses. Her EP features some excellent vocals with top notch production. Bravado showcases both of these.
Lorde effortlessly graces the track with multi-layered vocals to create a rich harmonised soundscape, warming the sparse backdrop of beats and synthesizers. Spread the word and help Lorde get some well-deserved attention.
Download - Bravado
5.12.12
Adele - Skyfall (Dorsh Remix)
I saw the new 007 movie recently on my Birthday, and despite losing/someone stealing my pair of sunnies in the cinema, I still enjoyed the movie immensely.
After the intense opening chase scene of Skyfall, Adele's opening track soothes the viewer like a painkiller and the listener is immersed into a film-noir montage of grissly allusions to death amidst a sumptuous soulful number from the British songstress.
While I enjoyed the original, I'd have to say that Dorsh's remix resonates with me much more. The Jamaican DJ has kept true to the original ballad, but he expands on the sentiment, with summery synths, transforming Skyfall into a much more positive sounding track.
Click below for an mp3 before the download limit is reached on Soundcloud.
Download - Skyfall (Dorsh Remix)
3.12.12
| | |
| --- | --- |
| | Sleeping States Gregory And The Hawk |
Gregory And The Hawk - Sleeping States
Lately, I have been unable to stop listening to Gregory And The Hawk's new album Come, Now.
Sleeping States is the lead single from the new LP and it is an easy listen that revolves around a catchy chorus and Meredith Godreau's sweet vocals. Meredith's voice is hard to resist and she has a definite skill for songwriting. Her bedroom recordings are hardly lo-fi and Come, Now is definitely a CD worth purchasing. 
Recommended for fans of Emma Lousie and Stars
Enjoy.