Foster The People - Coming of Age
Foster The People are back with a new single, Coming of Age, and an announcement of an album release date.
The LA-based band announced today on their Facebook  that Supbermodel with be released on March 18th. 
Foster The People join Death Cab For Cutie, Alt-J, Fleet Foxes and more groups who are confirmed as prepping material for a release this year.
Peep the visuals to Coming of Age, below.
Enjoy!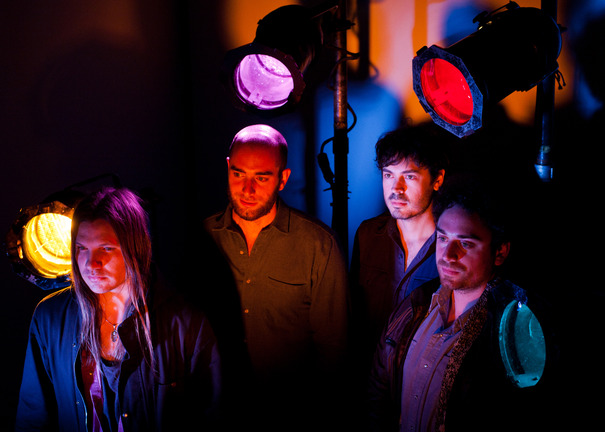 Poor Moon - Birds
Any fan of the Fleet Foxes should take notice of Poor Moon. 50% of the four-piece band consist of members of the legendary folk group and their music is of a similar ilk as well.
The music is definitely rooted in American folk tradition, but there are elements of swing music also in Birds. The track is being given away for free so I recommend downloading the link below before it is indubitably removed from Soundcloud in a matter of days.
The band are due to release an their debut album on Monday August 27th through Bella Union Records (why would you release an album on a Monday??). This further throws into question the likelihood of the Fleet Foxes reuniting for a third album after their drummer J. Tillman left the group earlier this year to pursue his solo project Father John Misty while other members have also been reported to be working on other material.
Download - Birds
Grand Salvo - Needles 
I was taken by Grand Salvo's soft delivery of Needles, the story of a lifetime, during his opening act for the Fleet Foxes in early 2012. Grand Salvo (Aka Paddy Mann) uses intimate lyricism to reflect his interest in how our thoughts and perceptions can alter over a lifetime.
Below are the lyrics. Enjoy! 
Flowers are toys, Bees are old boys, She wears a dress like a song wears a voice
A terrible choice, A girl over boy, The boots of a man and the hooves of a horse
Incarnate hour, Surgical charm, Her eyebrows are just like the ink of a brush
Needles are thin and kept in a tin, Time is a wind sweeping everything clean
Left in the sun without its lid on, The texture is leached by the white of the sheet
The bed is unmade, It's a wonderful day, The curtains behave like the soul of a wave
A house is deserted so nobody heard, The ring of a phone, it was starting to rain
Her makeup was leaking, She just didn't need it, Her eyebrows are just link the ink of a brush
The texture explodes so deliciously slow, The curtains rejoice like the sea of a coast
Bow to the host, not to the toast, Glasses that sing when you rub them with skin
Back is across the cheek of a rock, Things live below with stomach of stone
Flowers arrive they live in the like, The base of a stone is a wonderful home
Mountains are pure they're never unsure, They're rocks are so old that they haven't been sold
She told me a story bout how someone had hurt her, Her freckly face was full of kindness and grace
I love jumping rocks, it's one thing I got, I jump like a doe, I wish I wasn't alone
Help me to find the time to be kind, Give me a call I want to tell you it all
Needles are sly they hide from your eyes, All the buckets of blood from all the fingers and thumbs
Forests are free there's nothing they need, I lie on the needles listening to its beetles
The scent of the worm the coo of a bird, The creak of the wood everything as it should
The clack of my bones the thought of blood as it flows, The tremulous heart as it falters and starts
Pieces of glass are no longer sharp, Bottles thrown into the sea long ago
Kids on the beach learning to drink, Eventually tossed into the foam in the rocks
Hearing a new song for the very first time, It started me sobbing like it pulled something from me
Listening to songs I used to when I was young, Remembering friends when we all hated our beds
We giggle and croon, cackle and swoon, Keeping each other close like sisters and brothers
I've been missing the past ever since I was cast, And now that I'm old
Now that I'm old
I miss it 10,000-fold
Words by Lilly.
(Source: hernameiskarina)
Fleet Foxes - The Shrine / An Argument
The Fleet Foxes have blessed a highlight from this year's Helplessness Blues with an exquisitely animated video.
The clip (released 6 days ago) is as much of a metamorphosis as the song itself. I implore you to let your thoughts ramble as you watch. If their live performance is half as captivating as this clip, I'll be satisfied when I catch the group perform live in January.
Midlake - Young Bride
In '06 I had a friend who was obsessed with Midlake after they brought out their sophomore album The Trials of Van Occupanther.
He played that album every time we hung out. In short, while I wasn't a fan to begin with, it came to grow on me. This one was probably my favourite along with Roscoe. It was one of the first bands I heard that was apart of the American folk revival that is still going on today.
Their music will be enjoyed by fans of the Fleet Foxes. For fans of the music, here's a link to the mp3.
(Source: lagoonies)