listen. relax. enjoy.

18.04.13
| | |
| --- | --- |
| | La nuit mene une existence obscure Nicolas Repac |
Nicolas Repac - La Nuit Méne Une Existence Obscure
This track is sizzling with French sensuality. I first came across La Nuit Méne Une Existence Obscurefrom the So Frenchy, So Chic albums seven years ago. I hold this compilation series responsible for introducing me to a plethora of French talents including Emilié Simon, Spleen, Camille and We Were Evergreen to name a few.
Enjoy.
Comments
25.02.13
Phoenix - Entertainment
Now that it has been a week or so since Phoenix's new single Entertainment was released, I think it's time to assess its quality.
The track has definitely capitalised on the band's pop crossover appeal and longtime fans will find the familiar hook-driven melody, but there is a dominant addition that is instantly evident on Entertainment and that is synth.
Synthesizers have had a patchy influence over pop music, coming to have an insurmountable stronghold over much of the popular music in the 80s but dying off considerably in the 90s. But ever since electronic production has been made more accessible through cheap hi-fi home software and recording equipment, their influence in pop has skyrocketed. Having said that, most longtime Phoenix fans will fight to the death that their music is not 'pop,' but let's face it, Entertainment is definitely looking to appeal to new fans as much as old and with the watertight performance, it looks set to continue doing just that.
Phoenix's new album Bankrupt! will be out on April 22nd 2013 if it manages not to be leaked beforehand.
Enjoy.
Comments
12.02.13
| | |
| --- | --- |
| | Vivace From Concerto In C Minor Jacques Loussier Trio |


Jacques Loussier Trio - Vivace From Concerto In C Minor
Take one percussionist, one bassist, and one pianist with an impressive aquiline nose. Add classical training, and juxtapose with the desire to break rules. Combine, and the result is the Jacques Loussier Trio.
The Trio (originally comprising bassist Pierre Michelot, percussionist Christian Garros, and Loussier leading on piano) began recording during the 1950's, transposing compositions by Johann Sebastian Bach - taking them from former lives as strictly classical pieces, and transforming them into fresh jazz numbers.

During the mid-1970's, Loussier disbanded the trio, in order to develop some original compositions. However, the Trio re-formed (with a new lineup) in 1985, still focusing on Loussier's love of Bach, but also branching out to include pieces by Handel, Mozart, and Satie (among others) in their repertoire. 

Of the Trio's Bach interpretations, Vivace From Concerto In C Minor is a personal favourite. While the ear is drawn to the elegant piano, the percussive and bass work is impossible to ignore, gifting the listener with the best of not one, but three worlds. This recording is taken from the Trio's 50th Anniversary release, and features the post-reformation lineup of Vincent Charbonnier and André Arpino (handling bass and percussion, respectively).
Despite octogenarianism calling, Louisser still has a lot of Bach to work with. Here's hoping for a few more recordings of the man with the masterful hands.

~R.
Comments
21.09.12
Yann Tiersen - Atlantique Nord
Yann Tiersen is probably best known for his music on the Amelié soundtrack. However, he has contributed to many other French film scores and worked on several solo albums and in comparison, this body of music has recieved very little recognition.
Atlantique Nord literally meaning North Atlantic, appears on the soundtrack to Tabarly, a movie about a famous French sailor. Although I have not seen the film, the rich and emotive Atlantique Nord is captivating enough to make me want to watch Tabarly. If the movie ends up falling short of my expectations, at least I can rest assured that Yann Tiersen's beautiful compositions will make the viewing worthwhile. 
Enjoy.
Comments
27.08.12
| | |
| --- | --- |
| | Bongo Bong Manu Chao |
Manu Chao - Bongo Bong
What do you get when your mama is queen of the mumbo and your papa is king of the Congo? You get the king of bongo.
Manu Chao is a French born musician who sings in a combination of English, French and Spanish. This track is a remake of Mano Negra, wherein Manu Chao was a founding member. Bongo Bong is a ska-based track that features bilingual singing and rapping, particularly in the medley Je Ne T'Aime Plus, that plays at the end.
After Manu Chao's begun recording solo, he released Bongo Bong as the lead single from his first album. It was a huge success and went on to sell 5 million copies. This is a wonderful effort considering that his music is so unique. It has become part of pop culture with Robbie Williams and Lilly Allen covering the track and to date it is still Manu Chao's most recognisable song. 
Enjoy.
Comments
25.05.12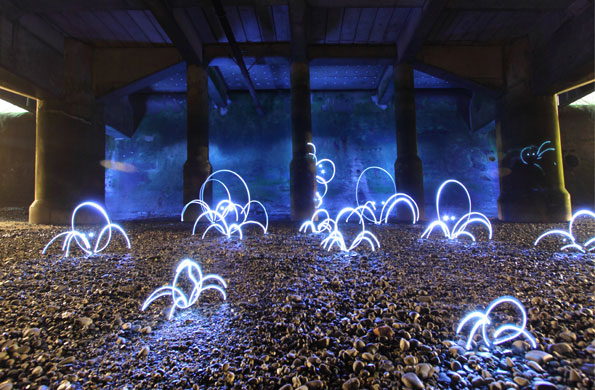 Neat Beats - Graffitti on a Tuesday Night
Woah! This song is amazing!
Mellow piano and guitar instrumentation and some fat hip hop beats as well. Just to even things off, Neat Beats (aka Alvin Fenner) also includes vocal samples from NASA(?) and an old learn-to-speak-French recording .
Honestly, this song just blows me away. The music is so fluid despite so many contrastive elements. Graffitti on a Tuesday Night further proves my point that quality sampling is underrated in modern music.
Check out more Neat Beats on his Bandcamp. I definitely recommend listening to the album in full for a more cohesive sound. I'd also recommend listening to Australian duo Fishing if you are a fan of experimental sample based music.
Download - Graffitti on a Tuesday Night
Comments
blog comments powered by

Disqus

theme by sweet themes.