listen. relax. enjoy.

4.05.13
| | |
| --- | --- |
| | Step Vampire Weekend |
Vampire Weekend - Step
Vampire Weekend amp up the hype for their highly anticipated third album with a new Youtube lyrics video for the track 'Step.' I remember hearing the sampled lyrics 'everytime I see you in the world you always step to my girl' from the early 90s Souls of Mischief track Step To My Girl. I'm not sure where the origin of those original lyrics are from but regardless, Vampire Weekend harmonise the lines beautifuly and come in great form with Step.
Modern Vampires of the City is due to be released May 13th, and no doubt fans will be relishing the new record while many critics will be keen to criticise the band, whether it be due to experimentation or lifting influences from other artists.
Enjoy.
22.01.13
| | |
| --- | --- |
| | Ceilings Local Natives |
Local Natives - Ceilings
Since the Local Natives' new album Hummingbird leaked two days ago, things have been pretty quiet on the blog front. I'm going to write about one of my favourite tracks on the LP and hope that Frenchkiss Records don't hunt me down over this one.
Ceilings is an absolute gift from start to finish. The balanced concoction of guitar and synth combined with dreamy riffs and harmonies makes it approachable, replayable and remedial all in one.
Remember that Hummingbird is officially released on January 26th and I would strongly recommend purchasing that album if you like what you hear. It is well worth the purchase.
I haven't done this in a while, but I think I'll share the lyrics of Ceilings with you. 

"Haven't stopped your smoking yet
So I'll share your cigarette
Just to feel it in my fingers

Walk around 'til 3 am
Tell me what I know again
To keep myself from second guessing

All my silver dreams bring me to you

Hold the summer in your hands
'Til the summer turns to sand
We were staring at our ceilings
Thinking of what we'd give to have one more day of sun, 
One day of sun

Silver dreams bring me to you [x3]"
16.09.12
Greg Laswell - Sing, Theresa Says
Sing, Theresa Says won Song of the Year at the San Diego Music Awards back in 2007. Laswell definitely deserved that win as he wrote the song and most of the Through Toledo LP while he was going through a divorce. Nevertheless the song is not burdened with sorrow, nor is it too upbeat.
The chords are warm and inviting while the lyrics and singing style evoke a sense of surrealism - 
"go to sleep while I gather all my things, and I will call you in a couple of days, I can hear the June bugs approaching, a God damn army of them in my brain."
Enjoy.
12.08.12
| | |
| --- | --- |
| | An Animal Owen |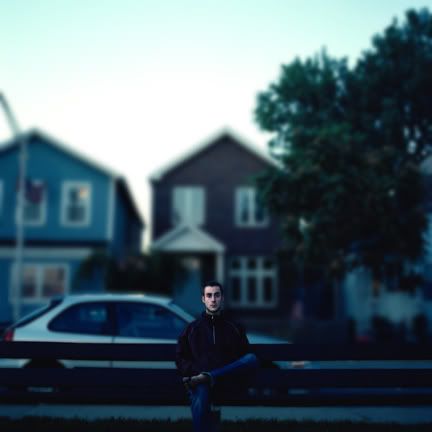 Owen - An Animal
The dreamy song arrangements and finger-picking instrumentation on Owen's latest album makes for a mesmerizing listen. The 9 tracks are well thought out, with Owen covering topics ranging from questioning God's existence, ambivalence to others, itchy feet and everything in between.
An Animal is one of the darker songs on an album with a cello serving as accompaniments to Owen's skilled guitarwork. The story has a sinister feel to it and it is told with honesty. I'd recommend this to fans of The Magic Lantern for the interesting structure. Lyrics below. Enjoy
I did my time, Endless days and nights
I paid for my sins so I could come back and sin again
I've seen the light, Burning hot and bright
It scorched my skin, I said f**k that and came back to sin again
I've been running like a convict across state lines
Looking for answers, An easy way out
An alibi, Free will for those who can afford it
The rest of us be damned
Free, I suppose, with help from your parents
But I can't change who I am
I've got twenty eyes on you and no place to put my hands
I keep my secrets buried beneath us, under deep soil and stones
Maybe God will save my soul, but in this world I'm an animal with clothes on
An animal with needs
17.03.12
| | |
| --- | --- |
| | Shredding The Balloon Hilltop Hoods |
Hilltop Hoods - Shredding the Balloon 
Hilltop Hoods are arguably Australia's most commercially successful hip hop group. On their sixth and latest album Drinking From The Sun, Suffa continues to push his role as producer to incorporate rock, funk, boom-bap and orchestral arrangements. 
Shredding The Balloon is a personal favourite of mine as the melody is fixating and Suffa references everything from De La Soul's Buhloone Mindstate, "it might blow up but it won't go pop," to J.R.R. Tolkein's Return of The King.
The references are dispersed amongst clever metaphors and anecdotes to tell a personal story. The Adelaide emcee still manages to appeal to a widespread Australian audience and attract attention internationally despite being one of the most consistently innovative acts in hip hop today. These qualities are all assets to fans of their music.
I could have picked out a few memorable lines from Shredding The Balloon, but there are too many so you can check out the lyrics below. Enjoy.
Like we always do about this time, ink lines for the sick rhymes inclined, It's grimy shit but naughty that can't be fixed with a little bit of spitshine, Big time like Frankie in Vages, inspiring like Ali and Frazier, Spit it out till we spilling out to the street start a party up with our neighbours, I'd rather be part of your playlist, than ever be part of your A-list, Harness the energy, heart of a pedigree with the scars of a sadist, I go so hard on the pavement; I go so far with my statements, That i don't know where they end and where i start it's all part of game it's, The farthest I've came since I started to play it, I spar with these artists, the heartless and brainless, We're harnessed by chains that are hard to escape and you change then they label us bastards and traitors, They're charlatans, they're haters, they start on us but they're fake as, Our parliament, but don't be disheartened by them pardon their failures, If we don't forgive our enemies, we'll crawl the walls like centipedes, Burn our energy like fossil fuels and fuel our own damn effigy, And we'll all burn like Hennessey, so keep on then and step with me, John Lennon let it be, dead the beef like abattors, before these scavengers tear at me:
I've been waiting to come back, Like where the hell is the show?, Like a balloon on a thumbtack, Getting ready to blow, I've been waiting to come back, Like where the hell is the show?, Like a balloon on a thumbtack, Getting ready to blow, 
And it might blow up but i won't go pop, And it might blow up but it won't burst, She said she might grow old but she won't grow up, Well she might, but only if I go first, She wears her heart on her sleeve like; she's wearing a patch on her shoulder, It's not a matter of whether i can catch her, more a matter of whether i can hold her, She thinks out loud she's got me; she laughs with her whole body, I think about how she got it all figured out and wonder why she'd even want me, Each night i find it's the same ole, when i crawl inside in the evening, I lie down next to an angel; fall asleep and fly with me demons, They say don't live in the past and live each day like it was your last but, I'd rather live each moment like it was my first, take it slow and sip from the glass, Savour the moment, spit vicious bars then pray for opponents, Sounds so serious don't it? But I'm not concerned with a thing, This is book three, Tolkien, Return of the King, The Kings have arrived; we drink from the sky, We fall from all 'cause we think we can fly, But our wings have been tied, and the winging and lies, Have me I'm wishing that i could bridge the divide, You living the life? In the blink of an eye, The shine of the bling and the rims that your ride, Can all disappear so live for the rhyme, Not material things your gifts can provide
I've been waiting to come back, Like where the hell is the show? Like a balloon on a thumbtack, We're getting ready to blow, I've been waiting to come back, Like we're the hell is the show?, Like a balloon on a thumbtack, I'm getting ready right now I'm getting ready,  
Since 'State of the Art' we've stayed in the yard just waiting to start this shit all over, Laying in bars for a day and a half, had to switch from gin to soda, And by like mid October, record was six month over, Due, and I'm like dude what you expect? I'm only three month sober, Coming up turning tree trunks over, running up burning divas, posers, Run amok till the sun is up or till one of us live la vidaloca, I'm going ta roll until i fold, like I got a hold of Propafol, So beautiful to know you all but for now I'm over an out.
(Source: raysofdain)
28.02.12
| | |
| --- | --- |
| | Needles Grand Salvo |
Grand Salvo - Needles 
I was taken by Grand Salvo's soft delivery of Needles, the story of a lifetime, during his opening act for the Fleet Foxes in early 2012. Grand Salvo (Aka Paddy Mann) uses intimate lyricism to reflect his interest in how our thoughts and perceptions can alter over a lifetime.
Below are the lyrics. Enjoy! 
Flowers are toys, Bees are old boys, She wears a dress like a song wears a voice
A terrible choice, A girl over boy, The boots of a man and the hooves of a horse
Incarnate hour, Surgical charm, Her eyebrows are just like the ink of a brush
Needles are thin and kept in a tin, Time is a wind sweeping everything clean
Left in the sun without its lid on, The texture is leached by the white of the sheet
The bed is unmade, It's a wonderful day, The curtains behave like the soul of a wave
A house is deserted so nobody heard, The ring of a phone, it was starting to rain
Her makeup was leaking, She just didn't need it, Her eyebrows are just link the ink of a brush
The texture explodes so deliciously slow, The curtains rejoice like the sea of a coast
Bow to the host, not to the toast, Glasses that sing when you rub them with skin
Back is across the cheek of a rock, Things live below with stomach of stone
Flowers arrive they live in the like, The base of a stone is a wonderful home
Mountains are pure they're never unsure, They're rocks are so old that they haven't been sold
She told me a story bout how someone had hurt her, Her freckly face was full of kindness and grace
I love jumping rocks, it's one thing I got, I jump like a doe, I wish I wasn't alone
Help me to find the time to be kind, Give me a call I want to tell you it all
Needles are sly they hide from your eyes, All the buckets of blood from all the fingers and thumbs
Forests are free there's nothing they need, I lie on the needles listening to its beetles
The scent of the worm the coo of a bird, The creak of the wood everything as it should
The clack of my bones the thought of blood as it flows, The tremulous heart as it falters and starts
Pieces of glass are no longer sharp, Bottles thrown into the sea long ago
Kids on the beach learning to drink, Eventually tossed into the foam in the rocks
Hearing a new song for the very first time, It started me sobbing like it pulled something from me
Listening to songs I used to when I was young, Remembering friends when we all hated our beds
We giggle and croon, cackle and swoon, Keeping each other close like sisters and brothers
I've been missing the past ever since I was cast, And now that I'm old
Now that I'm old
I miss it 10,000-fold
Words by Lilly.
(Source: hernameiskarina)
6.02.12
Emiliana Torrini - Birds
Whenever you can't get to sleep and you want nothing more than to rest, listen to this song.
The Icelandic songstress has a distinctive vocal prowess and has proven her worth with music ranging from folk ballads to trip hop; Birds falls somewhere in the middle of these two.
The song starts with a wandering riff but further in the music evolves progressively thanks to echoing effects, piano keys and even a reggae medley at one point. Birds is then taken to another level when the mood of the track lifts as if the listener is actually being taken on a flight with said subjects. 
I cannot think of too many female vocalists who are as instantly likable or recognizable as Torrini. Like her international fanbase, I am also eagerly anticipating a follow up to 2008's stunning Me And Armini album. Let's hope there will be more music to come.
Download Birds. Lyrics below.
"Let's stay awake and listen to the dark
Before the birds, before they all wake up
It's the ending of a play and soon begins another
Hear the leaves applaud the wind
See the sun come rising and white wings start to fly
Like strings of pearls in the fiery sky
I don't want to close my eyes
Don't want to leave the stage now
As the leaves applaud our stay
Lend me your wings and teach me how to fly
Show me when it rains, the place you go to hide
And the curtains draw again and bow - another day ends
The leaves applaud the wind"
30.12.11
Macklemore & Ryan Lewis - The End
Macklemore & Ryan Lewis' upcoming album would have to be my most anticipated release for 2012. They have made nothing but memorable, passionate music since they began working together.
I won't go on too long about this song, but I thought it was an appropriate track to finish the year off with. In the midst of your partying, chilling, or whatever you end up doing, spare a thought for this song and the gorgeous piano (which is a sample of 'Another World' by Antony and the Johnsons.
2012 will not be the end, but when you listen to this song, it almost seems like it. Enjoy and I'll see you in 2012.
Came in together, but you held me..
The process walking right through that door, at the entry.
I can't seem to remember, the lights were so bright,
And the disco ball blurred in the turn of that night.
But it was perfect, I was told the tux was starched and all.
Grabbed the glass of punch, nervousness, structured by that wall.
Arms folded, myself, I didn't know yet.
Until you came over, stood by me, you posted.
You put your hand out like I was stranded.
Tried to pull me on that dance floor, I stepped backwards.
See I wasn't ready yet, but you were my medicine..
Showed me that trust through that love that you held me with.
our backs against the wall as the DJ would spin
The soundtrack had changed as he played that mix…
Our lives flashed in front of us, just a glimpse,
We were together and experience this..

You finally pulled me up, I didn't want to..
But you filled me up, from the bottom of my heart.
And as we walked through that gymnasium that I'd been watching,
Feeling like my chest would explode from my heartbeat.
To the middle of the floor I almost panicked,
You put your hand out and I fearfully grabbed it.
The most beautiful thing that I'd seen on this planet,
She laughed 'cause you could tell that I didn't know how to dance yet..
We started moving and I, didn't know what I was doing.
You whispered, 
"don't you love music it's such a gift and I'll give it to ya, but you gotta use it"
I strayed, you brought me back in..
Trying to sneak a flask outside of that gym.
She said "You don't need that, look within."
She hugged me, looked into my eyes, she gave me a kiss
And she said, "I can't help you, if you don't let me. 
You're here to live just be, don't forget me.
The end of this dance you don't want to regret me, live..
'Cause tonight you'll all be set free"

"Last dance!" the Dj yelled.
Looked into her eyes and I could see myself..
Slow motion, frozen, toast to this moment.
Like there is no morning, like there is no morning.
No emotions, you on my shoulder, me lead and you follow,
As we circle the floor like the globe through this infinite mass..
Makes us seem so small,
With you in my hand like the skyline holds the stars.
Not letting go, but I can't hold on
Fading through my fingertips, watching us fall..
I try to catch you with my arms
I would never take you for granted when I had you in my palms.
To all I ever wanted, please play my song.
And put the record to the needle, don't ever touch that off switch.
You are perfect, forget that prom dress.
My God, seconds away from God, yes.
Somebody turned the heat on in this party,
Or we're becoming one because I'm melting into your body..
one being, heart beating, universe falling.
The ground split right between us and that concrete..
Separated my love, I could hear her calling.
Separated, but I could hear her calling.
Goodbye forever, never see you again
Winterball 2012, The End