listen. relax. enjoy.

10.04.13
| | |
| --- | --- |
| | Soul Killing Ting Tings |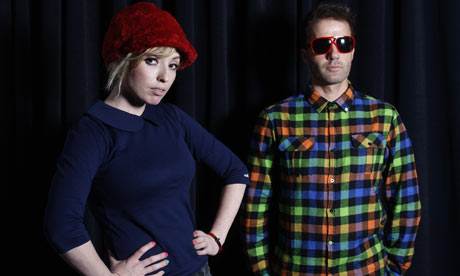 The Ting Tings - Soul Killing
The Ting Tings, who could have been easily dismissed as a pop throwaway group after releasing the irritating single That's Not My Name in 2008. The British duo consists of Katie White and Jules De Martino and they have more skill than many casual listeners might have known. I admittedly had no idea who they were until I heard this track from their second album Sounds From Nowhereville which came out around this time last year.
To be perfectly honest, since downloading Soul Killing upon its release, I haven't properly explored their other work together and I am dubious whether there will be a song I like better than this one. It has an upbeat reggae beat and enough variation to make it a worthy of plenty more listens one year on.
Enjoy.
22.03.13
| | |
| --- | --- |
| | Turn Around The Postal Service |
The Postal Service - Turn Around
In case you haven't already seen the plethora of postings on the internet today, The Postal Service have leaked the second unreleased song from the 10th anniversary rerelease of the group's only album Give Up. The first taste we had of any new material was A Tattered Line of String in February.
Turn Around is not exactly new. It was shelved at the time the group recorded the rest of Give Up in 2003, but now the song has been revamped for the deluxe edition which is scheduled for release on April 9th.
Enjoy.
25.02.13
Phoenix - Entertainment
Now that it has been a week or so since Phoenix's new single Entertainment was released, I think it's time to assess its quality.
The track has definitely capitalised on the band's pop crossover appeal and longtime fans will find the familiar hook-driven melody, but there is a dominant addition that is instantly evident on Entertainment and that is synth.
Synthesizers have had a patchy influence over pop music, coming to have an insurmountable stronghold over much of the popular music in the 80s but dying off considerably in the 90s. But ever since electronic production has been made more accessible through cheap hi-fi home software and recording equipment, their influence in pop has skyrocketed. Having said that, most longtime Phoenix fans will fight to the death that their music is not 'pop,' but let's face it, Entertainment is definitely looking to appeal to new fans as much as old and with the watertight performance, it looks set to continue doing just that.
Phoenix's new album Bankrupt! will be out on April 22nd 2013 if it manages not to be leaked beforehand.
Enjoy.
13.02.13
The Postal Service - A Tattered Line of String
After my jovial spiel announcing the return of The Postal Service, it has eventuated that the band's reissued deluxe version of 2003's Give Up will in fact contain two new songs - A Tattered Line of String being half of the new offering.
Fans of the group have been devoutly praying to the music gods for a musically matrimonial reunion for years, but fans expecting to hear the same chemistry on the new release will be sorely disappointed. Not to say that A Tattered Line of String is a bad song, far from it (we wouldn't have featured it otherwise), just to say that the reformation is a different feeling collaboration from the previous work that Jimmy Tamborello and Benjamin Gibbard have done together.
For one, the song structure is fast paced and Gibbard's vocals seem glossier and possibly less sincere than previous efforts. Given that I have only listened to the track once, I may be horribly mistaken, in which case my opinion will become imminently invalid, but in any case, what does my opinion matter? Go out and have a listen yourself.
The reissued version of Give Up will be released on April 9th.
22.01.13
| | |
| --- | --- |
| | Such Great Heights The Postal Service |
The Postal Service - Such Great Heights
It's official!
After rumours of a Postal Service reunion tour started surfacing last month, I was skeptical, especially since Benjamin Gibbard dismissed any hint of reuniting in an interview with Spinner in October 2012 - "There are no plans to make a second record … I can't say that enough," he added. "I find that making music in computers involves a lot of mouse time … I don't have an aesthetic for that… I'm much more interested in playing music than creating it." He even went on to likening Death Cab For Cutie as a "living breathing organism" while The Postal Service by comparison was always just a "project".
However there has been a breakthrough.
The official lineup of the Coachella festival has not yet listed The Postal Service as one of the headline acts that will play across the three day festival, however the information has been confirmed on dozens of websites that the band will be performing. The Postal Service's label Sub Pop has also confirmed that there will be a 10 year anniversary reissue of the band's one and only record, Give Up. It is Sub Pop's second highest selling album to date in the indie label's incredible roster, only coming second to Nirvana's Bleach.
This is definitely exciting news for fans who have been waiting for any news from the band who stopped releasing any material together over 5 years ago. Even though there have been no claims that any new material will be recorded together, it will be definitely interesting to see if the 10 year anniversary edition of Give Up contains any previously unreleased gems.
3.01.13
Swim Deep - The Sea
Could it be? A new band with a song title and group name that go together so well? Yes indeed, and the sound ofThe Sea matches the song title in this case too, straight up beach-swimming music. 
Swim Deep are a Birmingham band whose music is reminiscent of warm weather. If you're from the southern hemisphere, chances are you will need little reminding as Summer comes into full swing. 
Enjoy.
30.11.12
Wild Cub - Thunder Clatter
Keegan Dewitt is already an estblished musician in his own right, being a film composer and siger/songwriter. On his latest side project, he has teamed up with multi-instrumnetalist Jeremy Bullock to form Wild Cub - a musical venture that clearly takes inspiration from indie music and Paul Simon's experimentation with African afrobeat music.
The lead single from their debut album has skyrocketed them to international fame with Thunder Clatter clocking up 700 plays on Last FM this week with next week's charts sure to increase on that number. The blogosphere have been raving about the duo and with good reason as Wild Cub seem to have found the perfect formula for creating feelgood tunes that resonate with indie lovers everywhere.
Enjoy.
22.11.12
Last Lynx - Killing Switch
With such a funky, intelligent introduction in the first few seconds, it's hard not to want to keep listening to this song all the way through. The three lyricists of the Swedish group all contribute a different dynamic to Killing Switch to produce an original, smooth pop track reminiscent of Foster The People and Electric Guest.
This song has been buzzing over the bloggosphere since Last Lynx released this on Soundcloud a few days ago and sadly it has surpassed its download limit so you'll have to think of creative ways to get your hands on Killing Switch until they release their followup EP in early 2013.
Enjoy.