listen. relax. enjoy.

26.12.12
Here We Go Magic - Tunnelvision
Escapism, in the pure sense of the word, is something I always strive to have when listening to my 'chilled' music. Few musicians can manage to give me this sensation in their music, however Here We Go Magic are one of those special bands who manage to portray soundscapes that are greater than the sum of their individual instruments to allow for a transcendental listen.
I just came across Tunnelvision, a gem from their debut 2009 self-titled album. I'm off to check out more of their music and to fall in love with their back catalogue.
Here We Go Magic have just recently obtained their goal to fund a live EP that features some of their performances in European cities on their 2012 tour, so keep out an eye for that project by pledging exclusively here.
Download - Tunnelvision (right-click & save as)
Enjoy.
11.11.12
Sufjan Stevens - Alphabet Street
Sufjan Stevens has managed to divide critics with the symmetry of a tightrope walker since deviating from his folk roots and experimenting with mind-altering electronics on his 2010 standout album The Age of Adz. The man is a self-proclaimed blender of "autobiography, religious fantasy, and regional history," and I think they left out alien conspiracy. 
Seemingly drawing inspiration from anywhere and everywhere, Sufjan Stevens has recently announced his second double disc Christmas compilation album, Silver & Gold, which is due for release in two days. This psychadelic cover of Prince's Alphabet St will presumably be one of the 58 odes to Santa, or Jesus, or the apocalyptic art of Royal Robertson - I forget.
Enjoy, or if you are the other 50% feel free not to!
Download - Alphabet St
25.08.12
Alpha Channel - Taboo Island
Alpha Channel are a Melbourne duo who draw on samples, exotic instrumentation and their vast knowledge of music production software to craft their music.
Taboo Island is a surreal musical odyssey. Listeners are greeted by laid-back tropical guitar riffs, turntable scratches, and spacey psychadelic sound effects. Both producers have been teaching music production for over a decade at Melbourne's famed JMC Academy and their expertise is palatable. 
Credits to Psychadelic-Freak for the photo. For more info about the group check out Omlette Records.
Enjoy.
8.07.12
| | |
| --- | --- |
| | In Your Eyes John Frusciante |
John Frusciante - In Your Eyes
The avante-garde and always bold John Frusciante is about to release the Letur Lefur EP on July 16th shortly after Japan has the first taste on July 4th. The five tracks are an adventure in experimentation, something John has always striven for in his music.
In Your Eyes opens the EP and the mood and sounds shift dramatically though the track although it still remains relatively upbeat. According to John, the EP title refers to 'the transition of two becoming one, notably symbolized by the first song on the album being the sequel to the album's last.'
Later on, John describes his music as 'Progressive Synth Pop' which demonstrates the former Red Hot Chili Peppers guitarist's range in musical appreciation. Later on the EP is the track 909 Day which is an exploration in sample based production (possibly a nod to the 909 sampler) while FM could be described as a combination of hip hop/opera/synth that could sit comfortably with fans of s/s/s.
The five tracks are leftovers from John's upcoming album PBX Funicular Intaglio Zone. You can read more about that project and Letur Lefr here.
Enjoy.
(Source: april-23rd)
17.05.12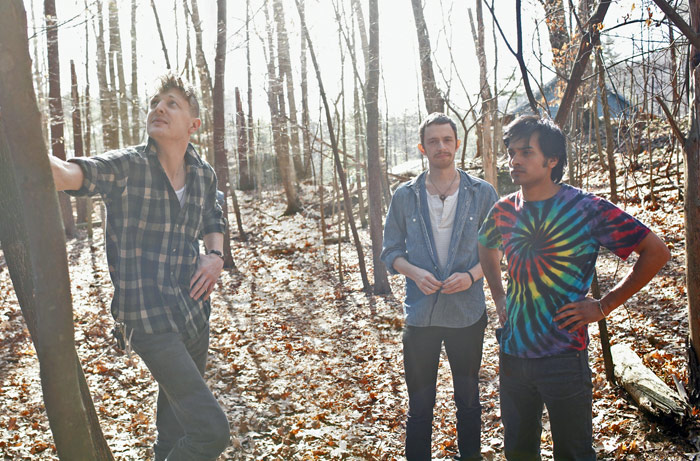 Yeasayer - Henrietta
It has been a while since we've heard new music from Brooklyn avant-garde psychadelic rockers Yeasayer but they've released this new track and it's everything you'd expect and more from the outfit.
Henrietta starts with synth sensibilities and a radio friendly melody. Things intensify around the 1:30 mark and the track breaks off in to a bit of an instrumental plateau. The vocals return at 2:30 as we hear the band lament, "oh Henrietta, we can live on forever."
It's both sinister and romantic and Yeasyer transform the mood with these lyrics driving the rest of the track. The darker second half of Henrietta is a far cry from the start of the song. 
Yeasayer continue to push the conventions of song structure by preferring an experimental approach to their music rather than opting out for mainstream accessibility. This will not be everyone's cup of tea but fans of the group will appreciate their innovative, creative and unique approach to songwriting.
Enjoy.
8.05.12
| | |
| --- | --- |
| | Midnight In A Perfect World DJ Shadow |
DJ Shadow - Midnight In A Perfect World 
Today I'm going to feature an absolute classic song by one of the world's greatest DJs, DJ Shadow. Midninght In a Perfect World sounds exactly as the title suggests. He released the first ever album that was entirely recorded using only samples from other songs. The 1996 LP Endtroducing frequents lists of the greatest albums of the 20th Century and with good reason. It is a sonic masterpiece that sounds vaugely familiar to first time listeners due to the vast range of samples used.
Rather than detailing his several accomplishments, I'm just going to allow you to be alone with your own thoughts as you listen to DJ Shadow's sampling, blending and production mastery.
Enjoy.
(Source: thatonerecordstoreguy)
1.04.12
| | |
| --- | --- |
| | Falling John Frusciante |
John Frusciante - Falling
One of my all time favourite guitarists is John Frusciante. I think 90% of people around the world would have heard his music in one form or another. He was the lead guitarist of the Red Hot Chili Peppers (from 1988 to 1992 and again from 1998 to 2010) and responsible for creating unforgettable music during his time in the band.
He is also a talented and prolific solo artist in his own right. I don't own a great number of his solo albums but Falling really captures what I love about his skill on guitar - at times speedy and complex, at times minimalist and progressive. The range in music styles in his back catalogue is really surprising and he is a musician who is willing to experiment in his music despite having mastered a range of guitarist techniques already.
Enjoy
Download - Falling (link will direct you to source)
(Source: callajodeer)
16.03.12
Here We Go Magic - Make Up Your Mind
Groove oozes from the latest single of Luke Temple's project Here We Go Magic. 
I always thought the song was funky, fast and psychadelic but the video just takes things to a whole new level.
For starters, we have Temple dressed like Freddy Mercury in the dark with sunnies on, wearing a leather vest and practicing a form of voodoo on unsuspecting lolitas in their knickers! The girls' (asphyxia-induced?) contortions are disturbing and you do feel like a bit of a pervert watching as these girls squirm, heave and shake uncontrollably around on the floor while Temple lewdly gesticulates towards the camera.
But then you the song is too good to stop watching and it is actually a refreshing departure from the majority of music videos around at the moment.
Here We Go Magic are due to release their upcoming album A Different Ship on May 8th. The sound of the Brooklyn based band has developed so much in the last few years and I think we'll be in for a treat when it is released. For now, enjoy Make Up Your Mind.